At RMG we strive to highlight members of our business who have shown excellent commitment and passion to fulfil their job and create a thriving culture. A great example of this has been Jade who is head of back-office processing. 
Jade started her career as a customer service agent in 2009 after hearing about the great working environment at RMG from a friend. This sparked the beginning of her journey with the company and was immediately involved in a project where she was tasked with moving the existing credit control provision from the office in Hoddesdon to the Northwich site. 
Jade proved an inval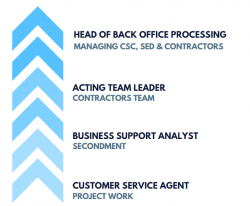 uable member of the company within the workforce but also as a colleague and a member of the office. Within 18 months, Jade was moving from strength to strength and took a secondment onto the Business Support team where she worked on projects to improve the business. Jade was given the opportunity to widen her responsibilities which allowed her to thrive and become more confident in her role and progress her career. 
During her secondment, Jade worked on various projects, including one that focused on the contractors business function. During this time an opportunity arose to join the contractor's team as acting Team Leader. Her Team Leader role became permanent and Jade has taken on more and more responsibilities. As well has managing the contractors team, she also took on the SED team, then the debt team and in 2020 took on responsibility of the Customer Service Centre team too. 
Along the way, Jade has taken advantage of some of the training RMG has to offer, including AAT Level 2 and HR Management courses. 
We are always looking to provide employees opportunities to push themselves, grow their skillset and forge a long and successful career, just like Jade! 
If this is something that appeals to you then get in touch at careers@rmguk.com or check out any vacancies we have at: 
https://rmguk.current-vacancies.com/Careers/RMG-vacancy-search-page-1912/Vacancies