Level 3 Housing & Property Management
At the start of the year I went to a college careers fair with a colleague. Over the course of the day, as we talked to students about their future plans and the opportunities available at RMG, it occurred to me that we were missing a trick.  As genuine and plentiful as the opportunities are to build a successful career at RMG, and I have lots of colleagues who are brilliant examples of this, we were struggling to attract young people, like these college students who were looking to continue in education.
I may be biased, but as a company, we are very good at recruiting people into entry level roles and providing opportunities for progression, through coaching, training and development. In fact, a good number of our Property Managers, Regional Managers and senior management team began their life at RMG in our Customer Service Centre. And that front line role as a Customer Service Advisor is a great place to start, because it gives you a solid foundation and understanding of the property management industry upon which to build.
But after the careers fair, I couldn't help thinking that we were missing out on a huge opportunity to attract young people into the business who wanted to keep learning. I lost count of the number of times we were asked 'What apprenticeships do you offer?' So the following week I went to my Director with a proposal to create our own apprenticeship training programme, and I'm thrilled to say it's now launched and open for applications with our first cohort due to start in September!
I wanted to create something that would give a rounded overview of the residential property management industry, and give a real insight into the career paths available. So rather than recruit apprentices into a static roles, we've designed a job rotation scheme that will give apprentices experience working in different parts of business. As a young person leaving college it's difficult to know which career path to choose, especially when you're applying for your first full time job and you have limited experience and knowledge of what options are available to you. Our programme has been created to overcome this by giving apprentices the chance to work as a property manager, in finance, health & safety and back office support, and then decide what they want to do based on what they have enjoyed and where their strengths lie.
For more information on the scheme see our apprenticeship handbook.
Applications for a September 2022 start close on 1st August. To apply, email your CV to louise.blackham@rmguk.com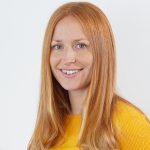 This article was written by
Louise Blackham,
Staff Liaison, RMG