Every year 5,000 young people from Cheshire and Warrington go off to university outside of the area and then don't return, resulting in a massive export of talent from our area.
The Pledge have teamed up with local businesses to create a paid summer intern programme to entice university students who are from Cheshire but studying away from home, back to the area over the summer break. The programme aims to show undergraduates from our region that there are great opportunities to start their careers back in Cheshire.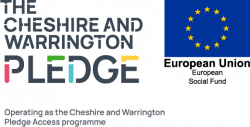 The Pledge is a fantastic organisation that facilitates relationships between education and business, to put employers at the heart of inspiring the next generation of employees. We have been working with The Pledge over the last 12 months to build links with local schools and colleges. The benefit of our relationship with education settings works both ways; we help them with their employment readiness programmes by getting involved with careers talks, mock interviews and CV workshops, and they give us access to the next generation of young talent, while providing us with the opportunity to give back to the community.
We're really pleased to be involved in this latest initiative and are offering three paid summer internships. Click on the links to see the job adverts:
These internships offer students the chance to apply their skills in a business setting and would be ideal for students who are looking to gain valuable experience, an insight into the property industry and earn over the summer break. And who knows, maybe they'll return to us one day as graduates…